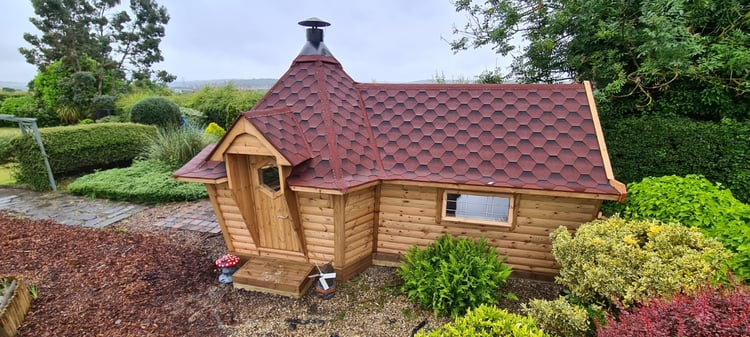 Arctic Bars really do make the most memorable setting for a night in with the lads...
...from the unique sloping walls to recline into after a few beers, to the central grill where you can really get in touch with your inner caveman...read on to find out more.
The lads are coming round, the beers are chilling in the fridge, the burgers are sizzling on the grill. The match kicks off at 8pm, it looks like it's going to be a great match, and the best seat in the house has your name on it. Then, after the full-time whistle blows, the real big game can begin - the cards are shuffled, and you've been practicing your poker face all week. It's your turn to host the weekly get together of the fellas, the night when the banter flows as smoothly as the beer, and you laugh so hard – your ribs ache the next day! What makes lads' night round yours even more special?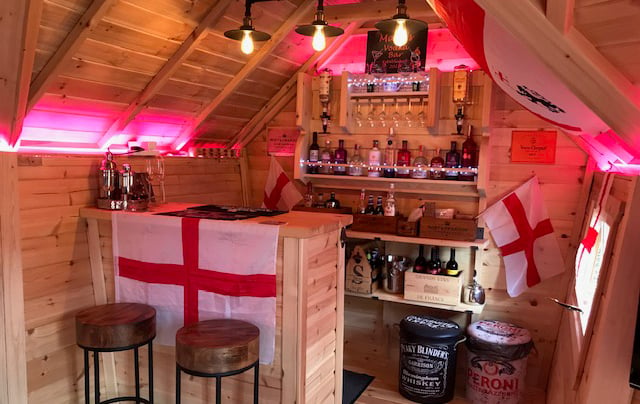 Your Arctic Cabins BBQ Hut
Most of the time, the BBQ Cabin is a family space. That's the beauty of such a flexible and practical timber garden building. The kids love it when you fire up that central, integrated barbeque. Together, as a family, the BBQ Hut is where you come to make precious memories.
It's also a place to wine and dine, the setting for a romantic evening that'll score you some brownie points. A place where the two of you can shut the world out, close that double glazed, secure door, turn the Yale lock, and just be.
And sometimes, your BBQ hut is a homework den, or a garden room to escape to with the Sunday paper, or a space for your teenage kids to entertain their friends away from mum and dad. Sometimes it's a place to work from home, a space to indulge your hobby, to meditate, to contemplate, to get your head straight… but not tonight.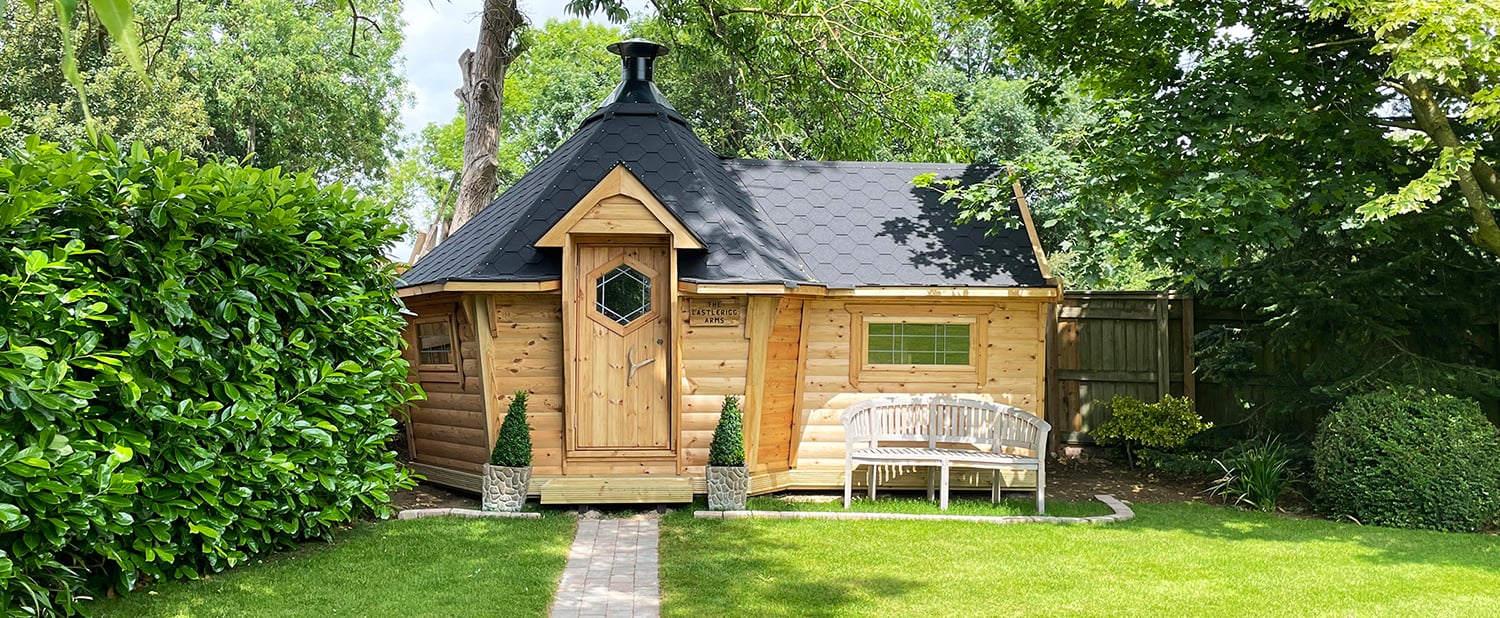 Tonight, your Arctic Cabins BBQ Hut has a date with its true destiny. Tonight, it's your Man Cave Bar.
That central BBQ Grill is what really sets your lads' night apart from the others. Sure, you always have a great time when you go to theirs, but that table fitted around the grill is perfect for a game of cards, ideal for a face to face catch up where you put the world to rights into the small hours, all the while keeping an eye on what you've got grilling and nothing teases the tastebuds like the sight, sound and smell of a BBQ!
Extensions and Arctic Bars can be added to the most popular Arctic Cabins BBQ Huts, so you can really let your imagination run wild when you create YOUR man cave bar.
Your BBQ Hut Man Cave Adventure Starts Here
Your Arctic Cabins adventure actually starts the minute you step inside one at our show site, a village of contemporary timber garden buildings, just off junction 25 of the M1 and a few minutes drive outside Nottingham. The moment you smell that spruce aroma, feel how much more roomy the cabin is thanks to those trademarked sloped walls, imagine the fun you'll have…this is the point most purchases are made!
At Arctic Cabins, we believe that everyone deserves to own their dream garden room so whether you're creating a mancave bar for your friends, or a teenage den, or a sleepover hut – that dream outdoor room is just a phone call away, or a click at arcticcabins.co.uk, or a visit to our show-site where we'd love to show you around!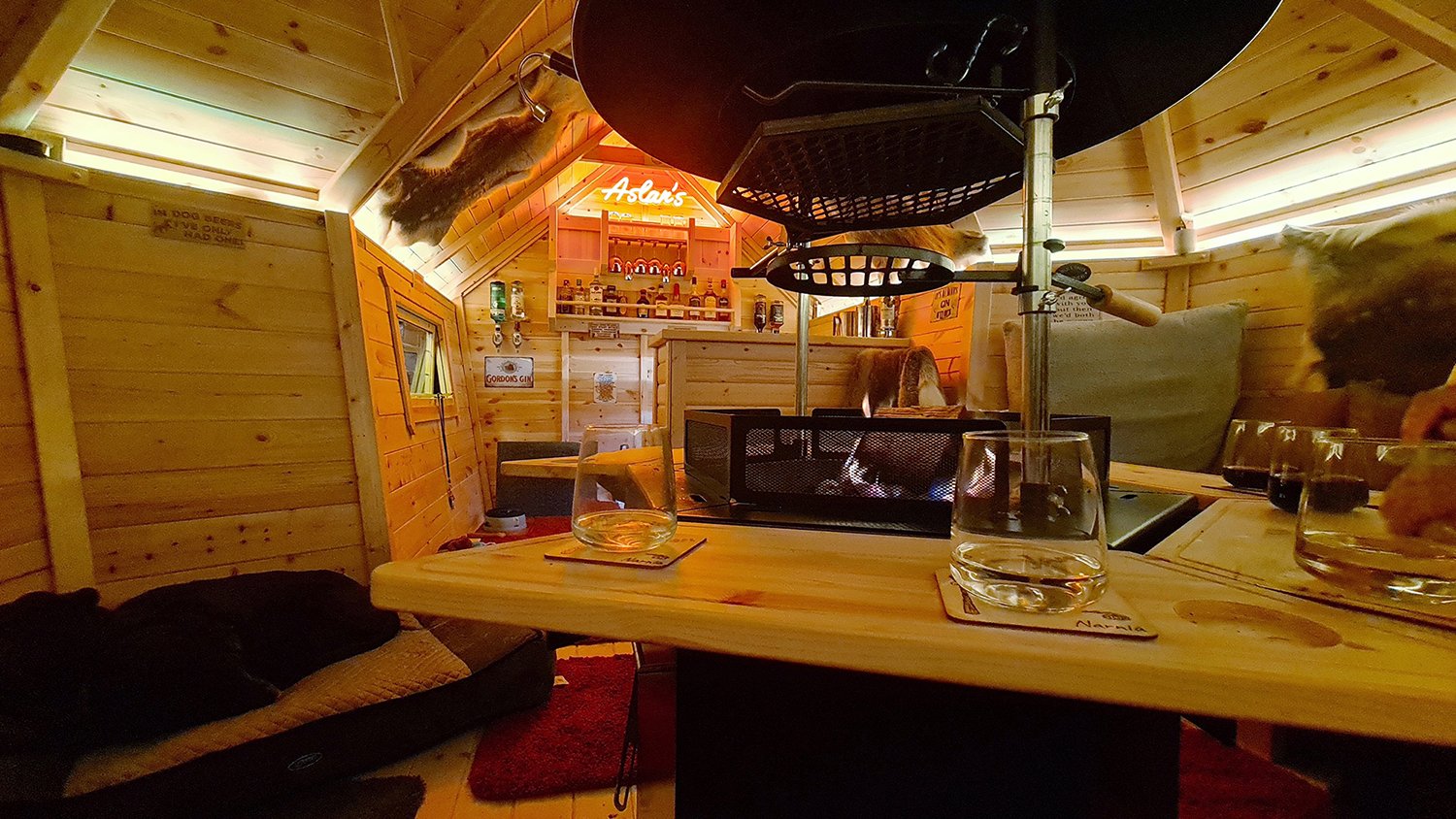 British Made
Building our cabins here in the UK, in a purpose-built factory in Derbyshire, not only means you are supporting the 'British Made' trade, but you are also getting quality products which are designed, constructed and installed to last, which is why we feel confident enough to offer a ten year manufacturer's guarantee. Or, to put that another way, your Mancave Bar can be the venue for watching two football World Cups and two Euros, and your Arctic Bar will still be covered by our guarantee! If only the results from those tournaments came with such certainty!
Capacity Crowd
Even though it's small enough to fit in most gardens, the 10m2 Arctic BBQ Hut Bar will seat up to 15 people, creating a perfect space for a lads' night in and with a side room extension, there will be more than enough room for a well-stocked bar, large screen television and games console or anything that you can imagine.
If you'd like to have more mates round, the 14m2 Arctic Cabin Seats up to 21 and the 17m2 comfortably seats 25 - with that much space the entertainment possibilities are endless.
Arctic Cabins BBQ Huts are only limited by your imagination. All cabins come packed with exciting features to add to your experience.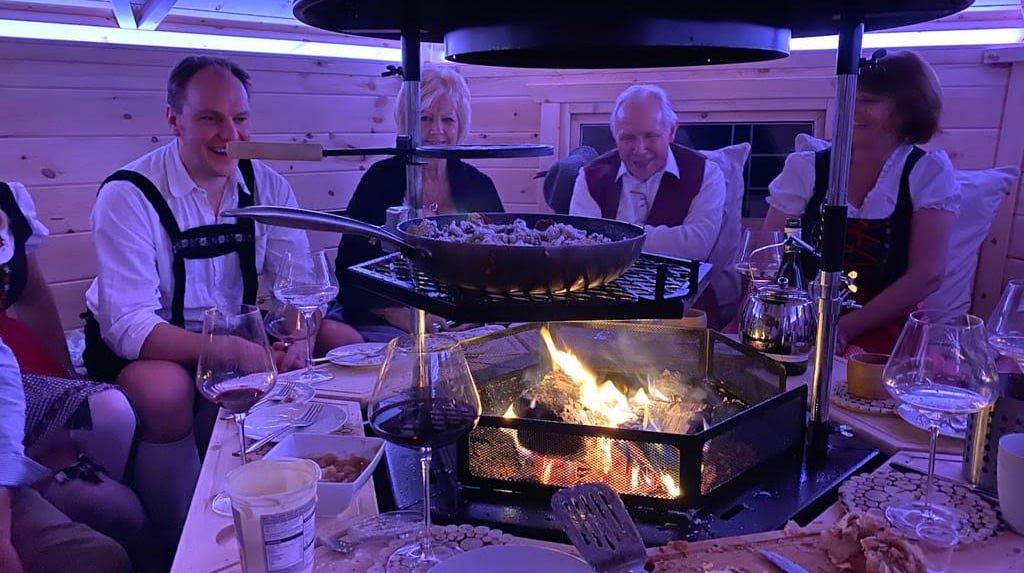 Arctic Cabins BBQ Hut Features Include:
Best quality materials - Handmade in the UK from the best sustainable Scandinavian Redwood
Double glazed, secure, opening windows
Double glazed, secure door fitted with a Yale lock
Central BBQ Grill
Detachable tray tables fitted around the grill
High quality SBS Rubber shingle roof
Full timber floor
Snuggly reindeer skins and accessory pack
Our durable structures are cool in the summer and warm in the winter, perfect for your garden bar in the unpredictable British climate, but the Arctic Cabins BBQ hut will keep out more than just the summer heat or the winter chill.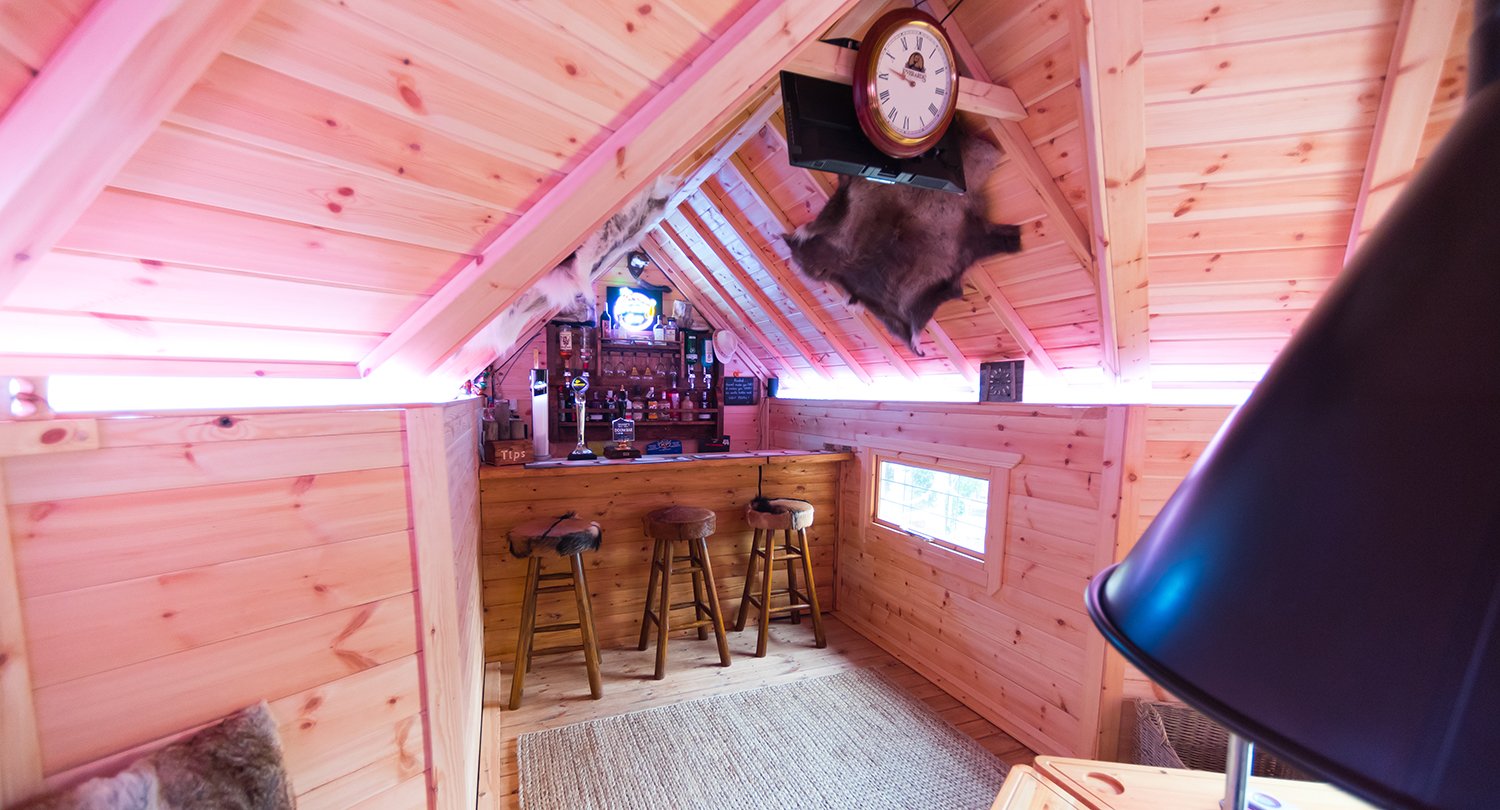 Your BBQ Hut Bar - A Sound Investment
The 44mm density timber that we use also brings you effective sound dampening qualities. When you're focussed on your poker hand, the last thing you want is to be distracted by a passing lorry or rowdy revellers walking home from the pub (especially as closing time in your bar is much more flexible!). Visitors to our show site, which is close to the busy A52 linking Nottingham with the M1 and the Toton Lane park and ride and tram stop, are struck by how quiet it is inside a cabin. Outside you can hear the constant rumble of the passing traffic and the tram bells ringing, but inside, thanks to the quality timbers and double glazed windows and doors, you can really focus on your royal flush!
In your imagination you could be in one of the Finnish wilderness huts that the Arctic Cabins BBQ hut is modelled on rather than by the side of a busy road. Perfect for losing yourself in conversation with your best mates!
Sound dampening works both ways too. In my experience, as the beers go down - voices go up. The last thing you want is annoyed neighbours complaining about your laughter after midnight but, when you're having a great time, you also don't want the evening to end too soon!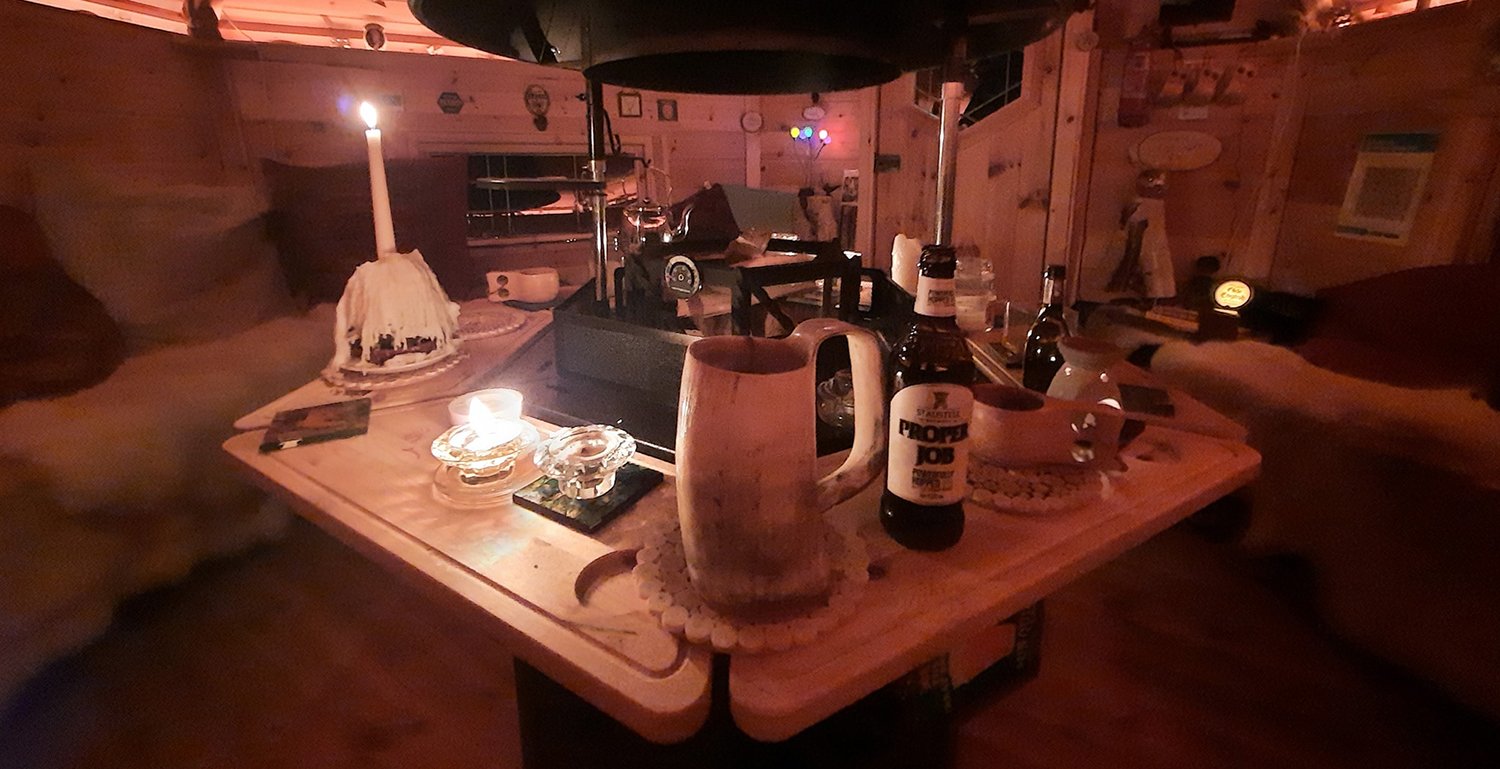 Delivery & Fitting
Arctic Cabins provide a full delivery and installation service so owning your perfect Mancave is easier than you think. Visiting customers often tell us that the hassle of erecting the building (or finding someone to do it for you) is the main reason they've not built a garden bare.
All Arctic Cabins fitters are internally employed by us – all they build is our cabins! So you know that you're in safe hands from design to delivery and installation.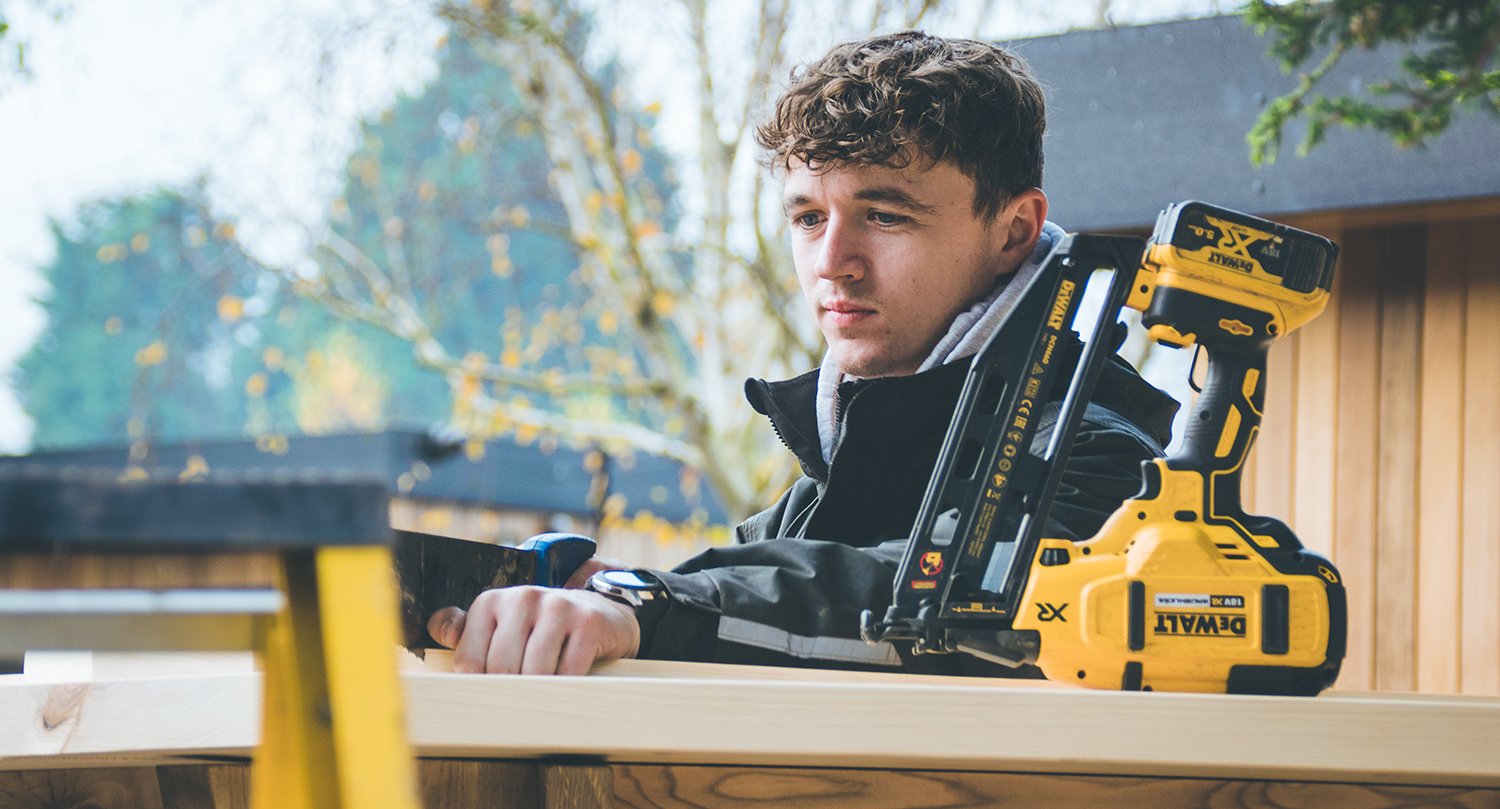 We use a stain preservative treatment on all of our cabins. However to allow for even more personalisation we can leave it untreated to give you the freedom to paint or stain your new cabin so it's a perfect fit for your garden, home and intended purpose. One client is currently pantone checking the actual colour of his football team's red shirts to ensure an accurate match for his soccer themed bar! We asked if he'd run this by his wife, he said he hadn't, and we can't wait to see how that one pans out for him.
To keep your cabin in tip top condition, we recommend if you choose to have your cabin untreated, that you stain or paint your cabin as soon as possible after installation, and, for the record, if the colour you have in mind is red, we'd also recommend just running that past your other half. Just to be on the safe side!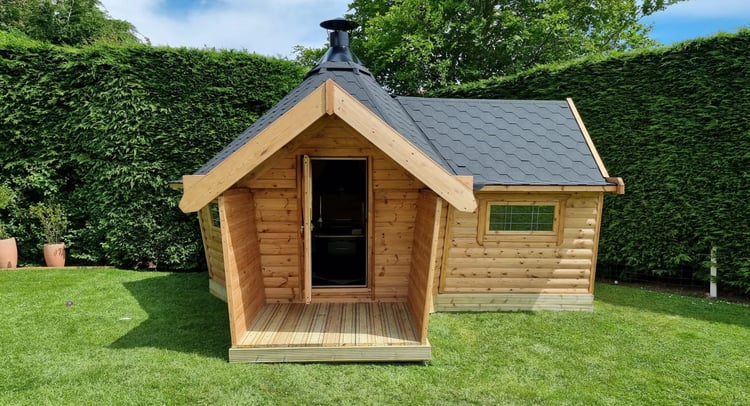 Start your BBQ hut man cave bar adventure today.
Call 0115 932 8888, explore our cabins online or, even better, visit our Nottingham Show-Site where you can step into 4 sizes of Arctic Cabins BBQ huts, Cabins with side rooms and a selection of Cabin Master buildings including Offices, Gyms and Garden Rooms and where we can help you with designs, pricing and more.
And the best thing about an Arctic Cabins BBQ Hut Bar?
When the bar is in your garden, and the bar has a central BBQ built-in, there's no queueing at the kebab shop for a late-night takeaway! And no need to book a taxi home either!! Cheers!!!