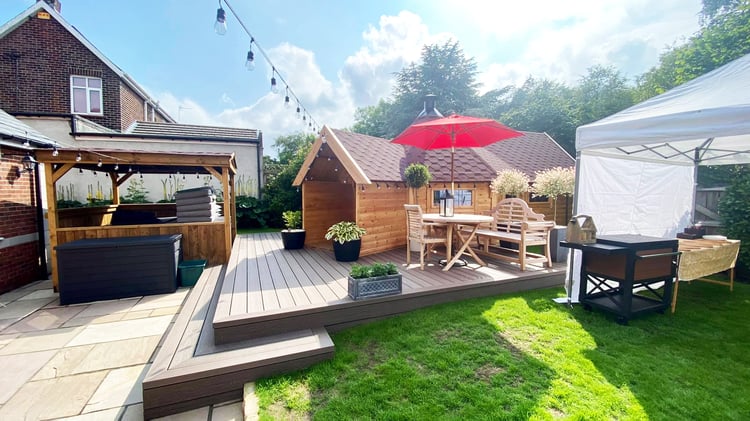 Is there a more appealing sound than the pop of a Prosecco cork after school run?
Your Arctic Cabins BBQ Hut is the ideal setting for this kind of evening and, more and more, visitors to our show-site in Nottingham are telling us of the plans they have for a Prosecco Hut, or gin or cocktail log cabin bar. So, what makes a BBQ hut so perfect?
For me that moment of anticipation is one of the most enjoyable parts of opening a bottle. Prosecco is always for sharing and whether it's two flutes you are filling for a romantic night together or four for a raucous night with the girls, the fun starts the moment you hear that pop! The bubbles, fizzing and sparkling as the glass fills, are like the sweetest music to my ears. It is the point when I know that the evening (or afternoon!) has begun.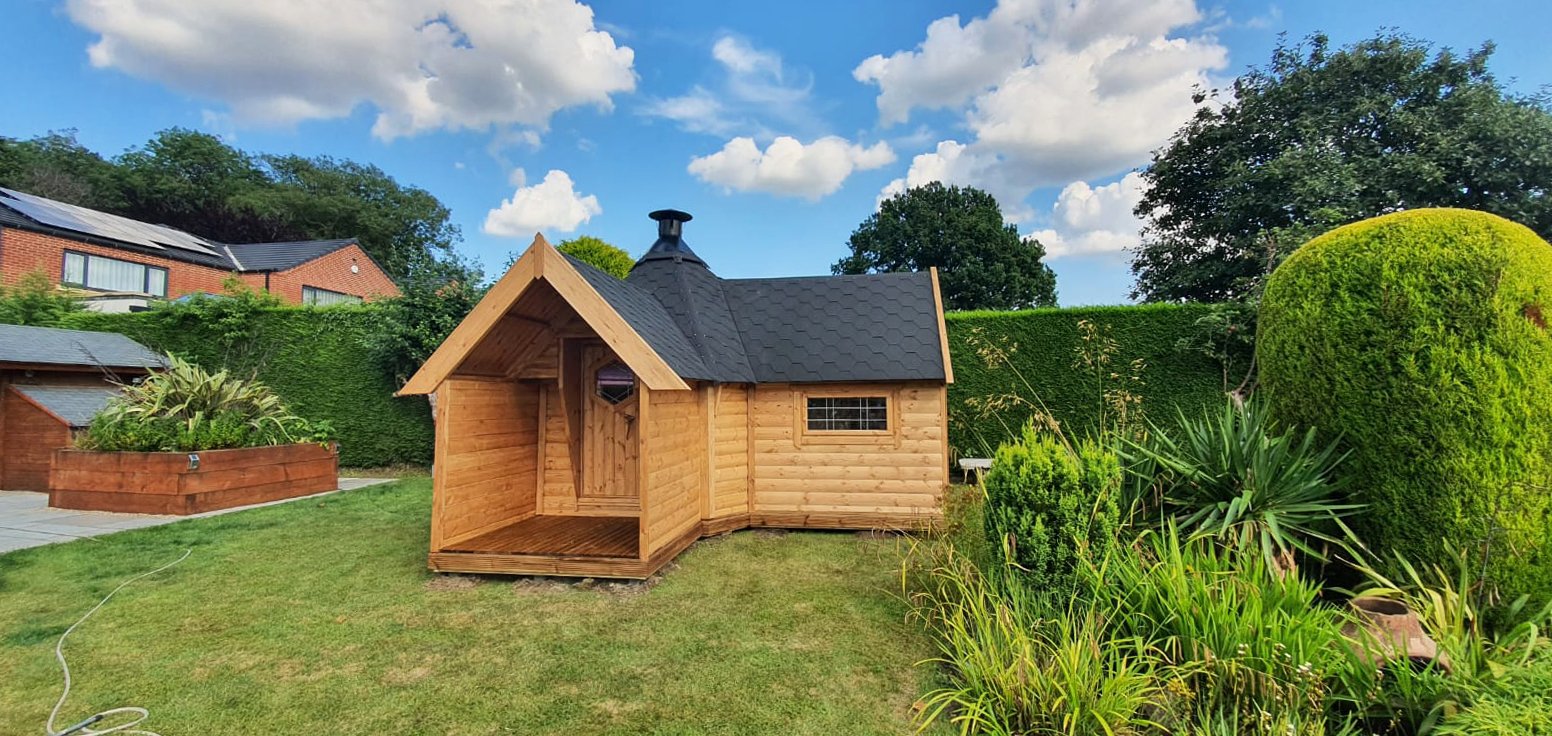 Laura's School-Mum Bar
Laura from Retford in Nottinghamshire was very clear about what she wanted from her garden bar. A Mum of two primary school aged children, Laura's appetite for wild nights out is not quite what it used to be, but, she does still love a night with the girls. Laura and her circle of friends (who also have young children) also like to feel like they're "out, out" – simply popping around to each other's houses just didn't cut it!
The solution was to recreate the bar experience of their pre-parenting days in Laura's garden. She told us, "Having a get together round at a friend's house is nice but it doesn't feel special, you know, we do that with coffee in the morning. The only difference on a Friday night is that it's a gin and tonic in your hand not a brew. So, I wanted a garden building, a log cabin, but a lot of the ones that I've looked at were just sheds – I didn't want the girls feeling like we'd just put some chairs out in a shed! That would be even less special!"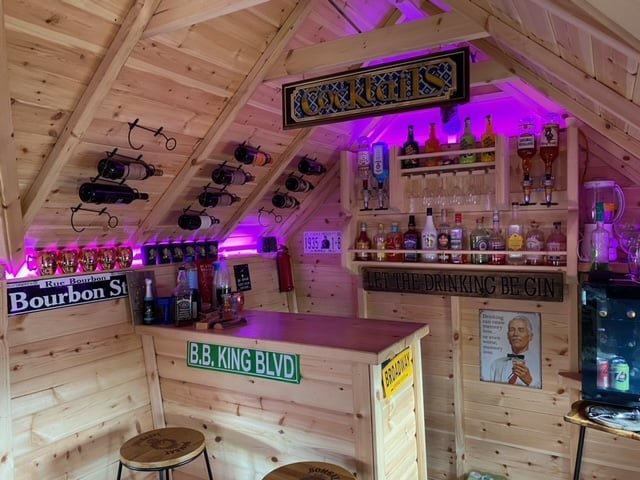 The Arctic Cabins BBQ hut that Laura is looking at is designed with all this in mind. The sloped walls give you more internal space and they're also perfect for comfortably leaning back with a glass of gin, flute of Prosecco or mug of mulled wine while you listen to your friends share their news and giggling away at what disasters happened that week! The 'in the round' seating design allows you to have eye contact with everyone in the cabin so the conversation will flow as easily as your chosen drink, that said, we challenge your eyes to not be distracted by whatever you have cooking on the integrated, central BBQ grill.
"I feel really calm," said Laura the first time she stepped inside a BBQ Hut at Arctic Cabins show-site (a growing village of log cabins and timber garden buildings that allows you to experience what owning one will be like).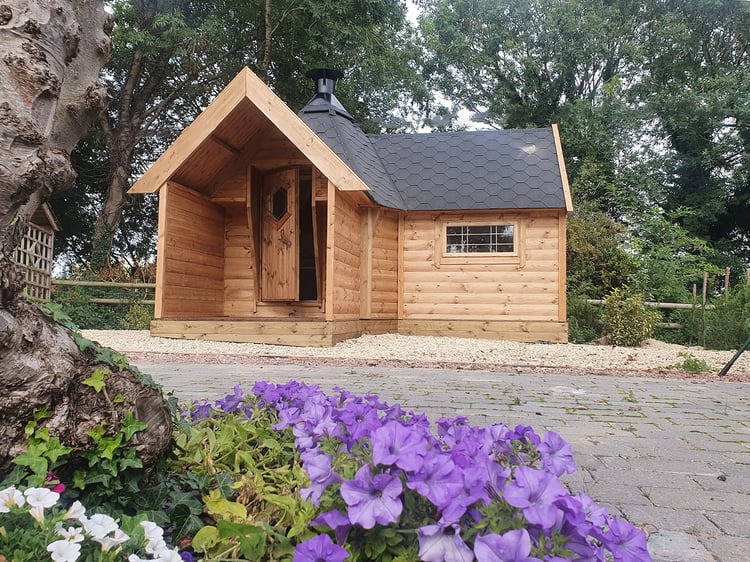 School-Mum Sanctuary
"It feels like a safe place – I think this will be a sanctuary for us school mums!"
Jo's 10m2 Arctic Cabin has a secret. From the front it will look impressive sat in the corner of the garden, in the shade of a great oak tree. Her guests will step inside and they'll be amazed by the impressive grill, they'll say how deceptively roomy the BBQ hut is on the inside (everyone says this - because of the sloping walls your cabin looks compact on the outside and cavernous by comparison on the inside!), the aromatic scent of the spruce will create an instant calm and then they'll notice what Jo calls her "pièce de resistance" - Jo's Prosecco Bar!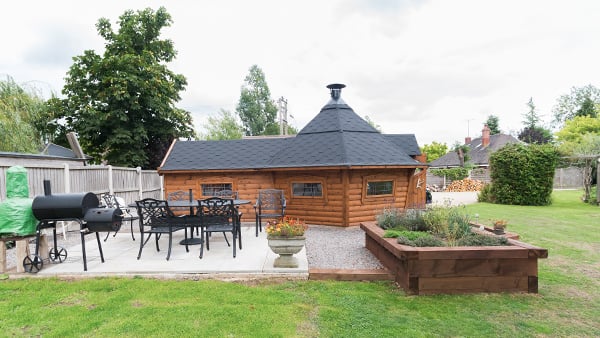 Behind the space that's been set aside for Jo's BBQ Hut, there presently lives a pampas grass plant. I say 'lives', it struggles in the shade of that great oak tree and for much of the year you'd be forgiven for thinking it was dead – apart from the fact that it continues to grow, currently taking up about 10 feet of garden and is now as high as it is wide. A remnant left by the elderly couple from whom Jo bought the house, the pampas grass' days are numbered. By lucky coincidence, its removal allows space on the back of Jo's BBQ hut for one of Arctic Cabins' most popular extras – an extension complete with a bar!
As I write this, Jo's BBQ Hut hasn't been installed yet, but she has already 'stocked up the bar' in anticipation and sourced some great Bar extras like cocktails shaker and an ice bucket from eBay to cocktail bar stools and a row of optics from Amazon. There will be no danger that Jo's friends will feel that her Arctic Cabin BBQ Hut bar is anything less than a very special place to be together.
We can't wait for our invitation to the opening night of Jo's prosecco Bar!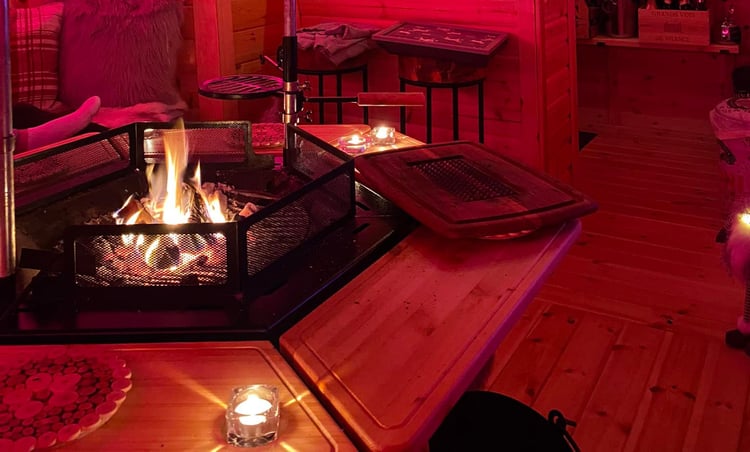 Your Adventure Starts Here
Start turning your imagination into an Arctic Cabins adventure of your own. At Arctic Cabins, we believe that everyone deserves to own their dream garden room so whether you're creating a bar for your friends, like Jo or Laura, or a mancave, or a teenage den, or a sleepover hut – that dream outdoor room is just a phone call away, or a click at arcticcabins.co.uk, or a visit to our show-site where we'd love to show you around!
Building our cabins here in the UK, in a purpose-built factory in Derbyshire, not only means you are supporting a British business, but you are also getting quality products which are designed, constructed and installed to last, which is why we feel confident enough to offer a ten year manufacturer's guarantee. Or, to put that another way, Jo and her school-mums' children will be through primary school, high school and into sixth form or college - and their BBQ hut bar will still be covered by our guarantee! If only everything in life came with such certainty!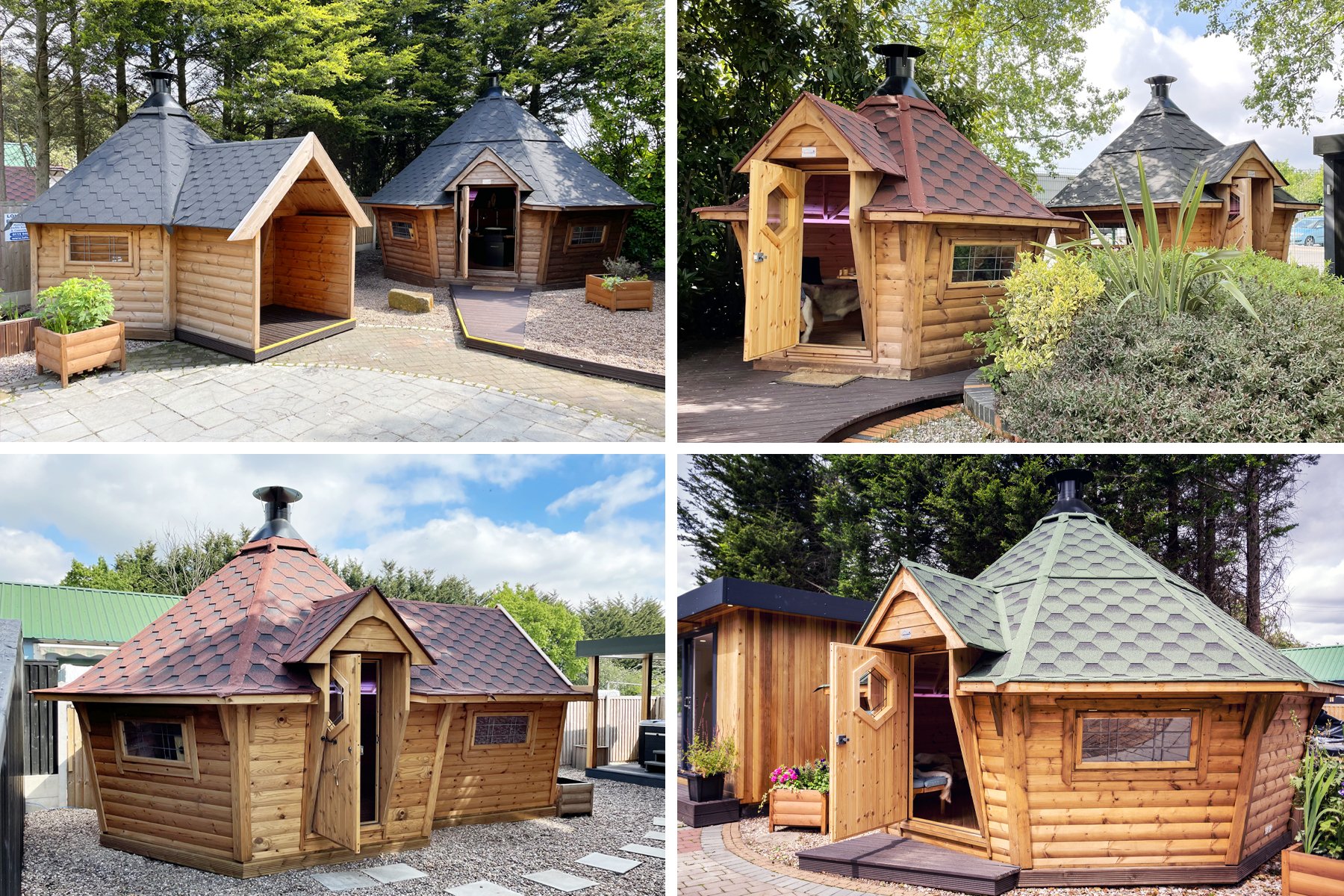 The 10m2 Arctic Cabin BBQ Hut Bar will easily seat 15 people, creating a cosy, intimate, fun environment and, with that extension bar, there will be more than enough room to stock any number of different choices that her guests may care to ask for.
If you're feeling more gregarious, the 14m2 Arctic Cabin Seats 21, the 17m2 comfortably seats 25 and the 25m2 will allow for the entertaining of over 35 guests – adding commercial and corporate possibilities. Arctic Cabins BBQ Huts are only limited by your imagination. All cabins come packed with exciting features to add to your ownership experience.
Arctic Cabins BBQ Hut Features Include:
Best quality materials - Handmade in the UK from the best sustainable Arctic pine
Double glazed, secure, opening windows
Double glazed, secure door fitted with a Yale lock
Central BBQ Grill
Removable tray tables around the central grill
High quality SBS rubber Shingle roof
Full timber floor
Snuggly deer skins and accessory pack
Our durable structures are cool in the summer and warm in the winter, perfect for your garden bar in the unpredictable British climate, but the Arctic Cabins BBQ hut will keep out more than just the summer heat or the winter chill.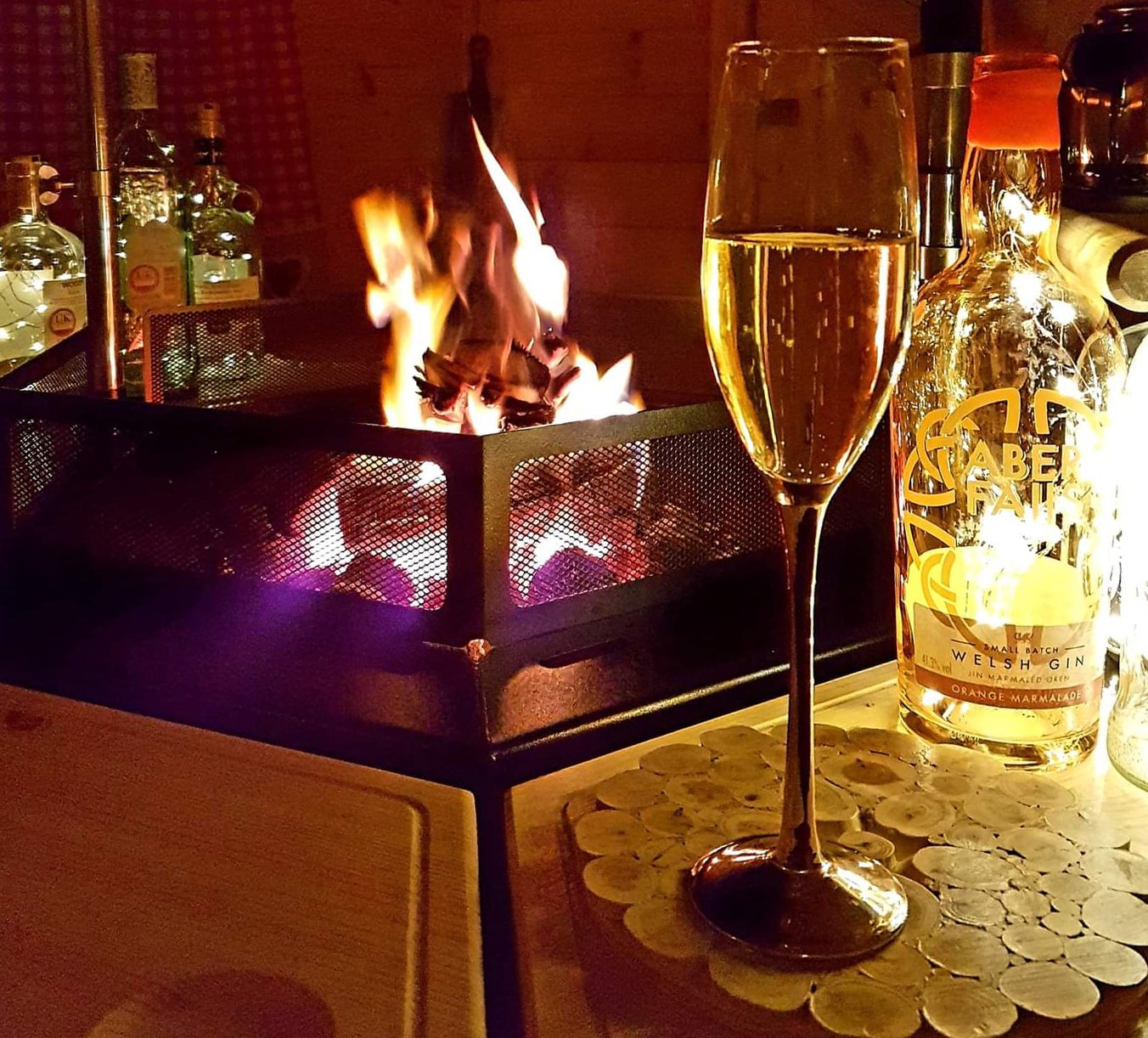 Your BBQ Hut Bar - A Sound Investment
The 44mm density timber that we use also brings you effective sound dampening qualities. The other side of Jo's garden fence, she told us, is a busy main road into town and few things disrupt conversation flow like a passing number 42 bus to Worksop. When Jo visited our show-site though, and sat inside one of the BBQ huts here, she noticed how peaceful it was. She commented upon how little noise from outside could be heard inside - remember our show-site is close to the busy A52 linking Nottingham with the M1 and the Toton Lane park and ride and tram stop. Outside you can hear the constant rumble of the passing traffic and the tram bells ringing, but inside you could be in the middle of nowhere. In your imagination you could be in one of the Finnish wilderness huts that the Arctic Cabins BBQ hut is modelled on rather than by the side of a busy road. Perfect for losing yourself in conversation with your BFFs!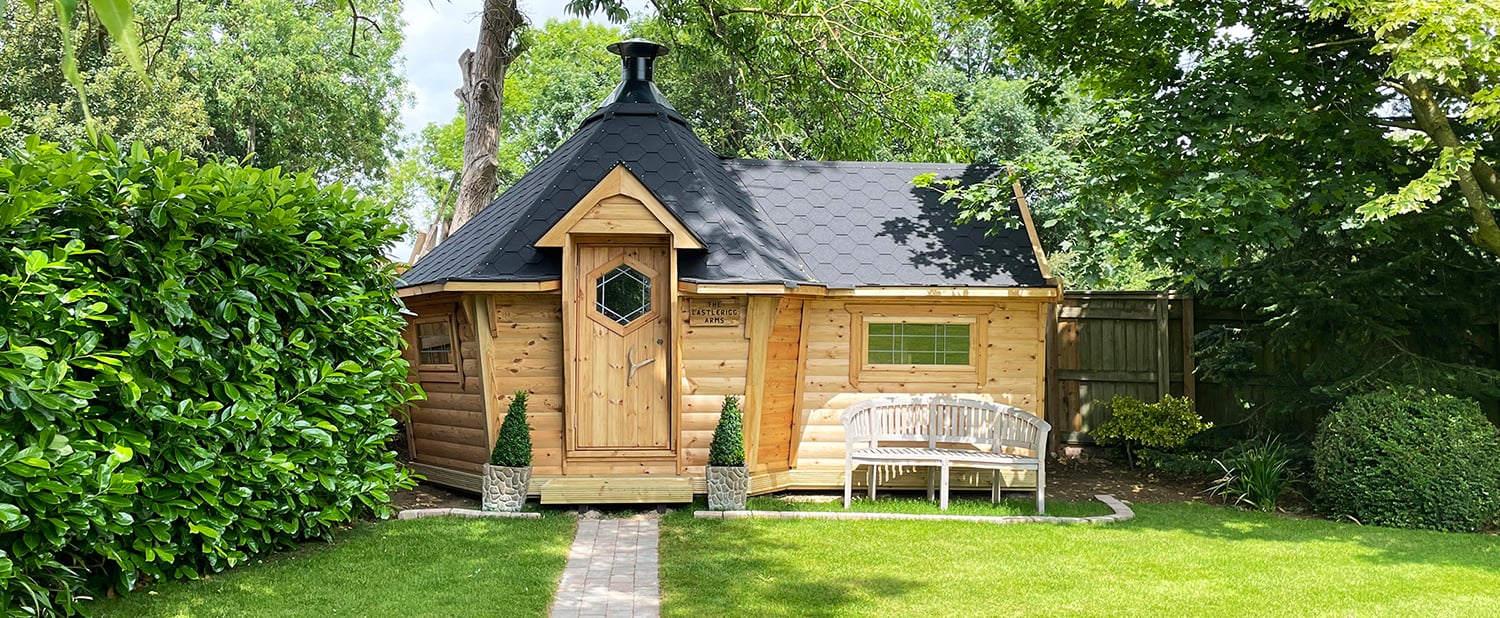 Sound dampening works both ways too. In my experience, as the Prosecco goes down - voices go up. The last thing you want is disgruntled neighbours complaining about your laughter after midnight but, when you're having a great time, you also don't want the evening to end too soon! Those solid timbers will hold some of your great atmosphere in the cabin.
Start your garden prosecco, gin or cocktail bar adventure today.
Call 0115 932 8888, explore our cabins online or, even better, visit our Nottingham Show-Site where you can step into 4 sizes of Arctic Cabins BBQ huts, Cabins with side rooms, The Arctic Bar and a selection of Cabin Master buildings including Offices, Gyms and Garden Rooms and where we can help you with designs, pricing and more.
And the best thing about an Arctic Cabins BBQ Hut? When the bar is in your garden, and the bar has central BBQ built-in, there's no queueing at the kebab shop for a late-night burger! And no need to book a taxi home!! Cheers!!!