So where do you start in making your choice?
Our Arctic Cabins customers tell us time and time again that, in this ever-expanding universe of choice, there is only one choice. Spoiler alert - it's us. Read on to find just some of the reasons customers choose us...
Drive past most garden centres or DIY superstores these days and you'll probably see a variety of timber garden buildings for sale. Certainly the choice has increased in the 20 years since we launched Arctic Cabins.
To save you typing your details into many online forms of various BBQ hut companies and getting information overload, we'll cut to the chase and let you know 9 of the main reasons why our customers choose a BBQ hut from Arctic Cabins.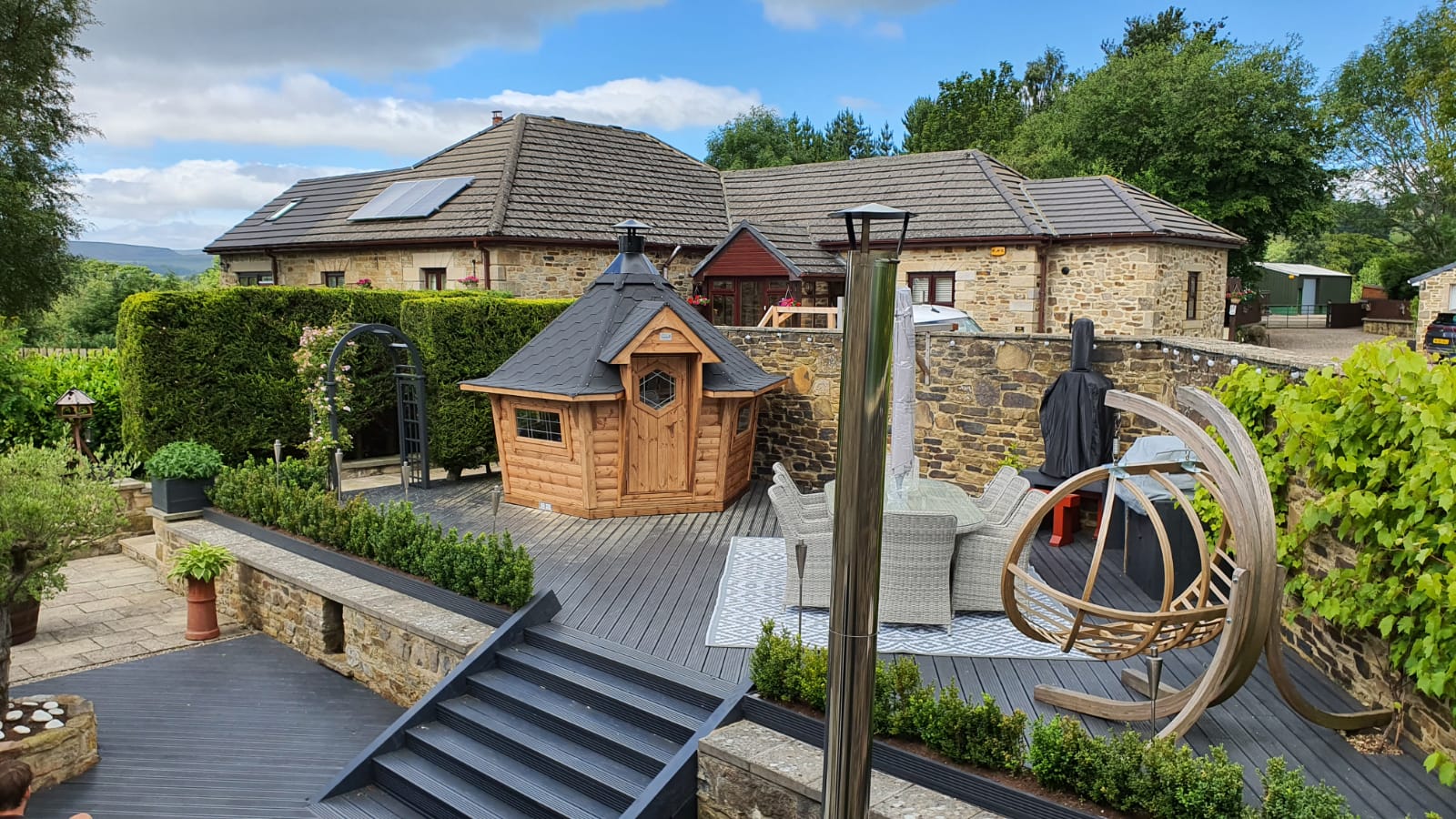 1. Our Happy Customers
It's amazing seeing the delight on peoples faces when they see an Arctic Cabin for the first time. They definitely have the 'wow factor'! We always see the same look when people get their BBQ hut installed, along with their excitement to get in there and get the BBQ fired up!
Within the last year, hundreds of customers have left us an independent review on Trustpilot, giving us an overall rating of 'Excellent'. Speak to any of our customers and they'll tell you about how much they use their BBQ huts and love sharing them with friends and family.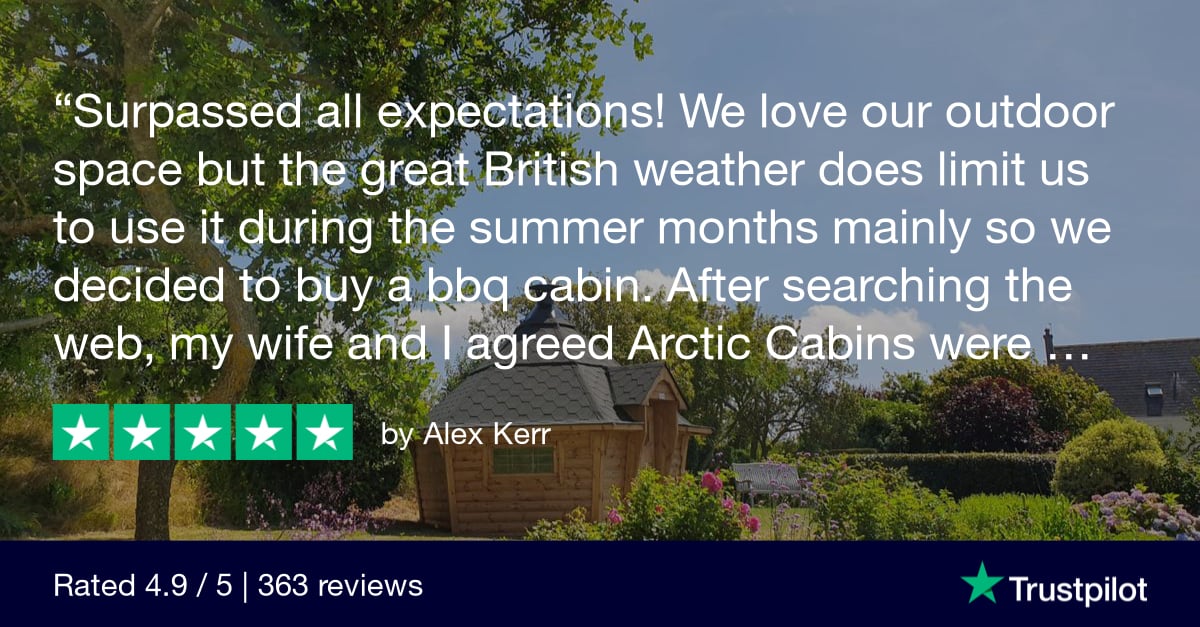 2. Our Team: Their Expertise, Experience & Family Ethos
Our owner, Gareth and his Finnish wife Virpi, brought the traditional 'Grillkota' BBQ hut design to the UK from Finland in 2002. Arctic Cabins is a family run business with a family ethos that runs through the DNA of the company.
An Arctic Cabin BBQ hut is an exciting purchase! Our team of employees go the extra mile to give you the very best experience with our company so that nothing can dampen your excitement. From the sales team who will show you all the BBQ huts at our show site to the installation crews with whom you'll sign off your project.
Everyone who plays a part in creating your perfect escape works directly for Arctic Cabins. We have an enviably high level of staff retention which has, over time, created an encyclopaedic bank of experience, expertise, product knowledge and passion.
Your customer experience is one of consistent competence from start to finish. We are more than a team, we are a family, and when you join our family by purchasing an Arctic BBQ hut, we want you to feel like you are part of something special.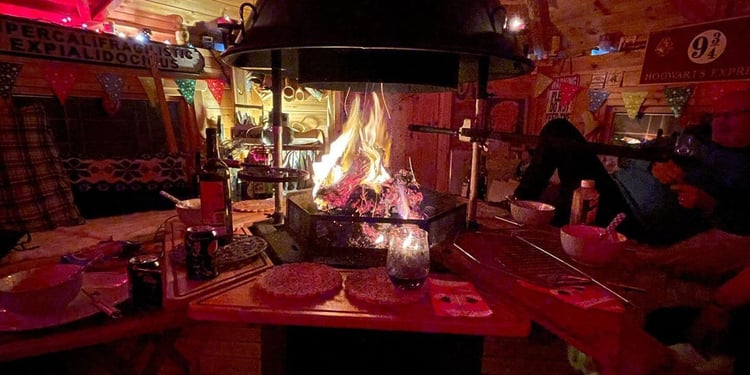 3. Confidence In Our Product - Arctic Cabins Sell Themselves
We believe in our BBQ huts, they kind of sell themselves. Once you've seen them, if you want one, you'll get one - there really is no need to have high-pressure sales people. It's an easy product to get excited about, so our team will share their product knowledge passionately, without the hard-sell.
A customer told us recently that it was the 'no pressure' approach at our show site that was the difference between us and our competitors. He'd come to our show site for a browse; he'd enjoyed the wow factor of stepping inside an Arctic Cabin BBQ hut. He'd said, "It's like the Tardis" like so many people do (the trademark sloping-walls make an Arctic Cabin feel bigger on the inside than they look on the outside!); he'd commented on the fabulous spruce aroma that hits you the moment you open the door; he'd taken lots of photographs of the cabins; he'd imagined all the wonderful ways his family would use it from cosy winter barbecues to summer parties. He'd even agonised over which size to go for - from the small BBQ hut which comfortably seats 10 adults, all the way up to the MASSIVE extra large BBQ hut ideal for 28+ adults (when you get one - everyone will want to come round).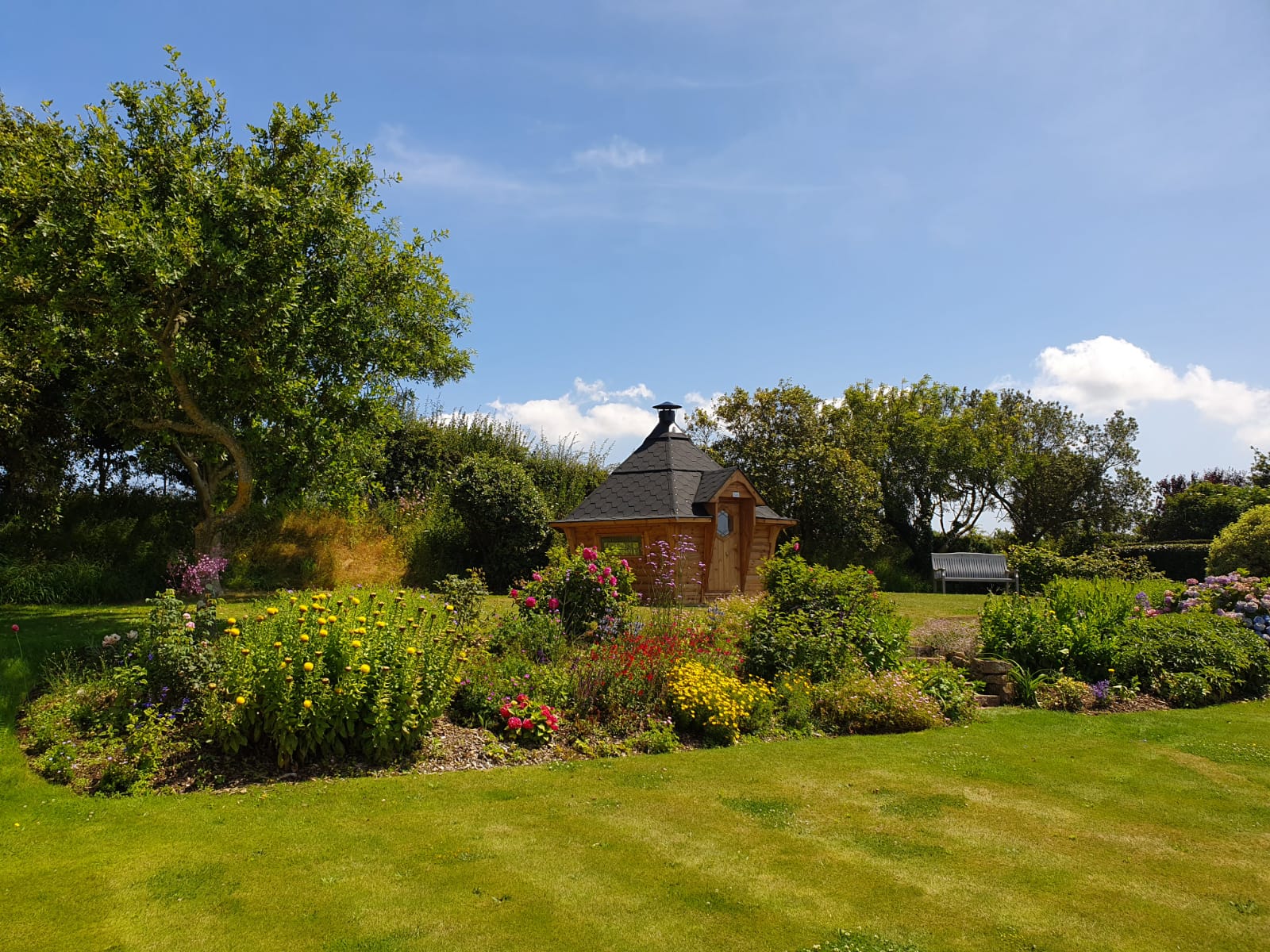 And then, he said, "I'll have to talk it over with my wife". To which we said "of course, that's no problem, we'll hopefully see you again."
The customer came back 2 days later with his wife and bought our 10㎡ Arctic Cabin BBQ hut, and told us he found it refreshing to have a sales approach like ours.
This is something that comes up time and time again when our customers leave reviews for us, something we hold in high-regard.

4. We Make All Of Our BBQ Huts In The UK
Our Arctic Cabins are expertly manufactured by our team in Derbyshire, and installed all over mainland UK. In fact, we are the only UK manufacturer of sloping walled BBQ huts and we own the trademark. So, there's no waiting for your order to be shipped from abroad, meaning we can offer an average four week lead time from order to installation. Manufacturing in the centre of the UK, rather than importing our BBQ huts, minimises the carbon footprint of your purchase.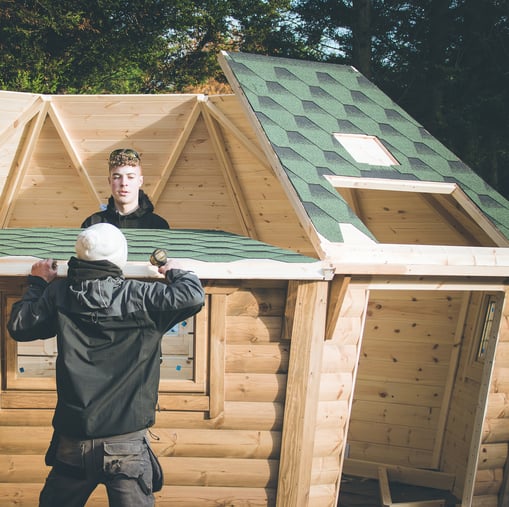 Manufacturing in the UK, at our bespoke factory, means that your Arctic Cabin BBQ hut will be made by the same craftsmen who made the one that you saw at our Nottingham show site; or the exhibition shows that you attended; or perhaps on a visit to Alnwick Castle's "Poison Garden".

Your BBQ hut will be made by the same skilled team who crafted an Arctic Cabin for the likes of Alan Titchmarsh, Richard Hammond, William Hague, Noel Edmonds and members of the royal family from Prince Edward and Sophie, Countess of Wessex, to the Duchess of Northumberland. This consistency is important to us.
Building our BBQ huts here in the UK not only means you are supporting the British-Made trade, you are getting a product of quality, built to last.


5. Built To Last - The Outstanding Quality Of Our Design, Construction & Materials
The timber we use is slow-grown redwood. What does that mean? The timber in your Arctic Cabins BBQ hut has been allowed to grow for 150 years as opposed to the more common 30 years growth of many imported cabins. Compare a 45mm cross section of our timber to a cheaper option and you can see how much denser ours is. This 'grown-in' strength means the timber in your Arctic Cabins BBQ hut will not warp or twist, giving you longevity that far exceeds the rest of the market and gives us the confidence to offer a 10 year manufacturers guarantee.
With a little care, your Arctic Cabins BBQ hut will last many years beyond this, perhaps closer to 30 or even 40 years. Indeed, some of the first Arctic Cabins BBQ huts we sold in the UK still look as good as new. Some of the 'grillkota' BBQ huts in Finland have been standing for over half a century!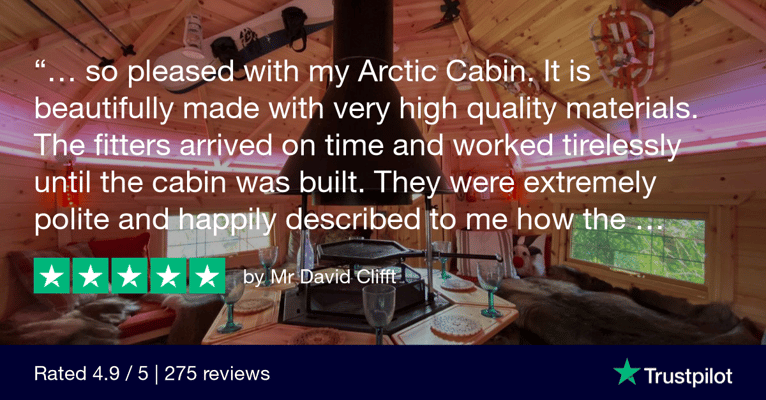 A denser 'log wall' also reduces warmth circulation which preserves warmth within the cabin. Our timber walls accumulate warmth and distribute it evenly inside, what's more, they get warm quickly but take a relatively long time to cool down, perfect for enjoying on a winters evening with a glass of mulled wine.
In summer you get the advantages of our timbers natural ventilation system - an Arctic Cabins BBQ hut 'breathes'. You will never feel the air is stuffy or too dry in an Arctic Cabin. When it rains (it's Britain, it WILL rain!) atmospheric moisture is never an issue, our timber is great at establishing the perfect moisture balance. When the level of moisture in the air increases, the timber absorbs any excess and when the air becomes too dry, it returns the moisture to the cabin.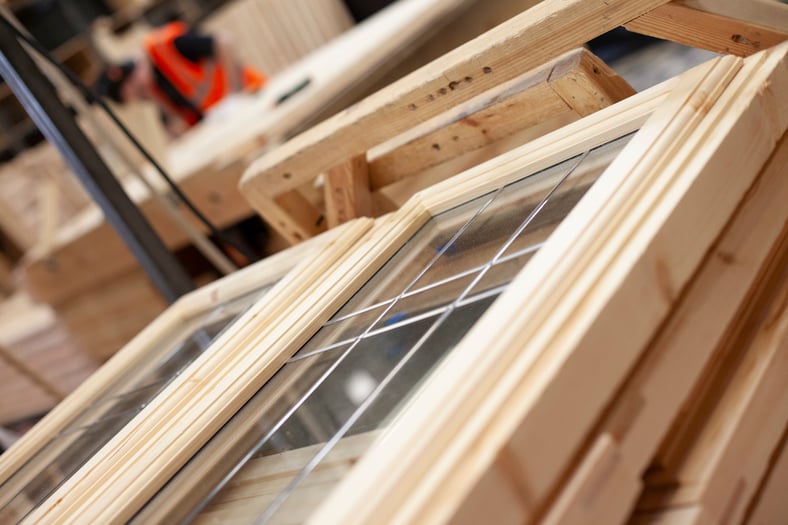 The windows of your Arctic Cabins BBQ hut are all double glazed and they all open – many other company's BBQ hut windows are single glazed and don't open. Ours, combined with the natural properties of the timber, create an airy space for you and your guests in the summertime (away from all the insects!), and a warm cosy space in the winter.
The lock on your door, is a Yale. As one of the oldest international brands, Yale is among the most respected names in the lock industry, with millions of Yale locks installed worldwide, giving you extra confidence that your Arctic Cabin is secure.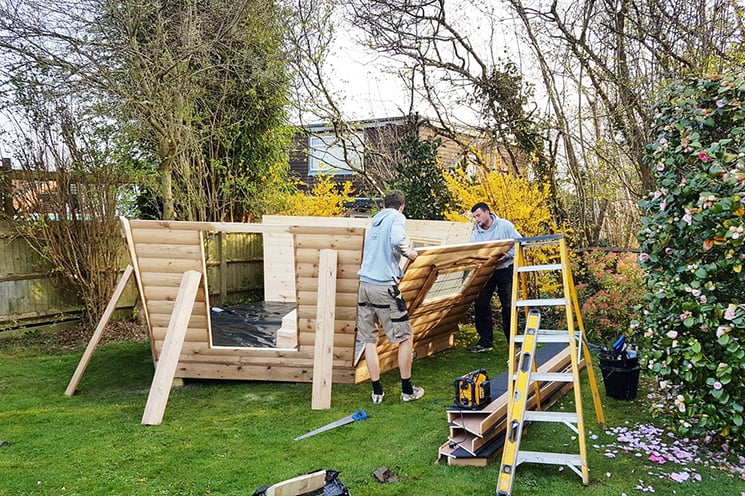 We know we are not the cheapest BBQ hut on the market. Others are cheaper, but for a reason. Arctic Cabins are built to last. We use the best available materials throughout the construction of our BBQ huts. We do get the occasional visitor come to our show site to get inspiration and ideas before sourcing an imported BBQ hut online, where they often arrive flat packed for the customer to build themselves, or appoint a joiner. But more often than not, when you see our BBQ huts in person, and realise the added value and service you'll receive from Arctic Cabins, we are the preferred choice.

6. We'll See Your Project Through From Start To Finish
We are proud of our "turn-key" approach which means that we oversee and complete the work of building and installation, to the point of readiness for you turning the key in the door and firing up that splendid barbecue. We are especially proud of the extras that we can offer, like a drinks bar or yoga studio extension! We pride ourselves on our national UK mainland delivery and installation capabilities and the lengths that we can go to, to reach even the most remote and seemingly inaccessible spot in your garden. In fact, if you have a hidden area of your garden - where better for a secret log cabin hideaway!? We love a challenge!
On installation, our fitting team will set your BBQ hut up with our unique 'Finnish accessory pack' which includes traditional 'Kuksa' wooden cups, thermometer, clock, bottle opener, knives, forks and placemats. You'll also get the super-cosy reindeer skins you'll have seen at our show site, along with an all important safety pack, as standard. You'll have the option to purchase made-to-measure seat cushions and atmospheric LED lighting.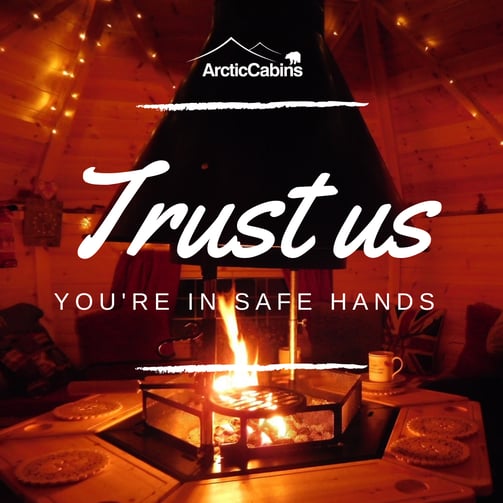 7. Choice Of BBQ Hut Size
We believe that everyone deserves to own their dream garden room so whether you've got acres and acres or a few spare metres, there is an Arctic Cabins BBQ hut for you.

Slow cook your meat, pour the Pimms and lemonade, sit back and enjoy!


And don't forget the extension options! If you rather like the idea of having extra space for food preparation, storage, or even a drinks bar, then we can create this for you. Just tell us about your dream space and we can make it a reality.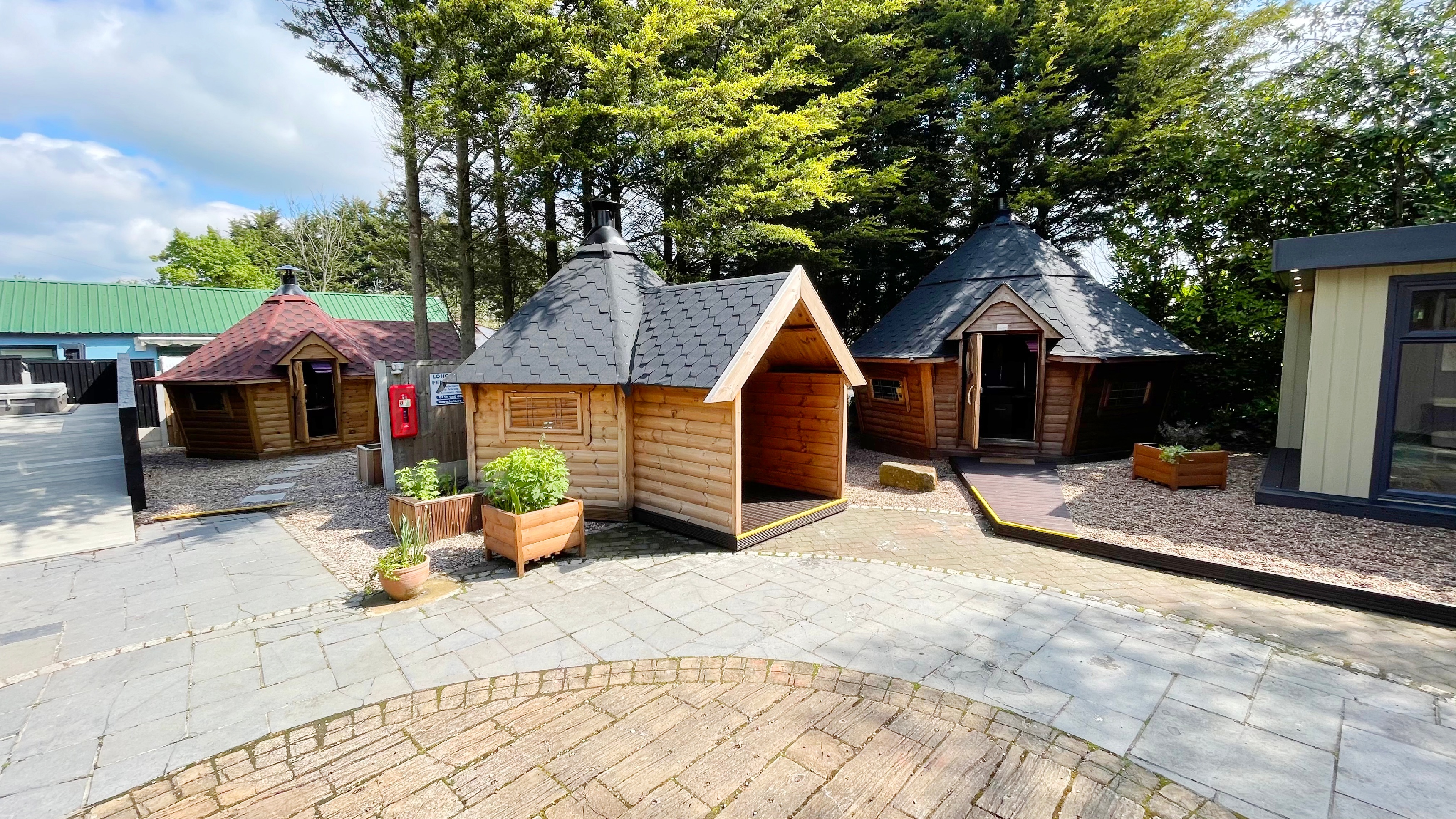 8. Finance Packages to Suit You
We believe that everyone deserves to own an Arctic Cabin. That's why we have partnered with Hitachi Capital, one of the worlds largest consumer credit providers, to bring our customers some fantastic and competitive finance options. We only require a 20% deposit when choosing one of our finance options. You can then decide between paying a set monthly installment or deferring the outstanding balance amount for up to 9 months. With Hitachi you are protected under the Consumer Credit Act 1974 and have certain rights in the unlikely event that a problem should occur and you're not satisfied. Please read on for more information.
With a 20% deposit to secure your cabin there is a range of finance solutions. You can then decide between paying a set monthly installment with our interest bearing credit option (IBC) or deferring the outstanding balance amount for up to 9 months with BNPL.
IBC is the most cost effective way to purchase your Arctic Cabins BBQ hut, with the ability to spread the cost over 36, 60 or 120 months, and with no hidden fees or overpayment charges, it puts you in control of your monthly spending and allows you to choose the right term to suit your budget.
Or there's the Buy Now Pay Later (BNPL) option which allows you to defer the balance for up to 9 months (so if you order today you won't pay a penny until 2023!). This is a great option if you can pay off the outstanding balance within the set term. In the same way that your BBQ hut can be designed to suit you, there is also a finance option to suit you.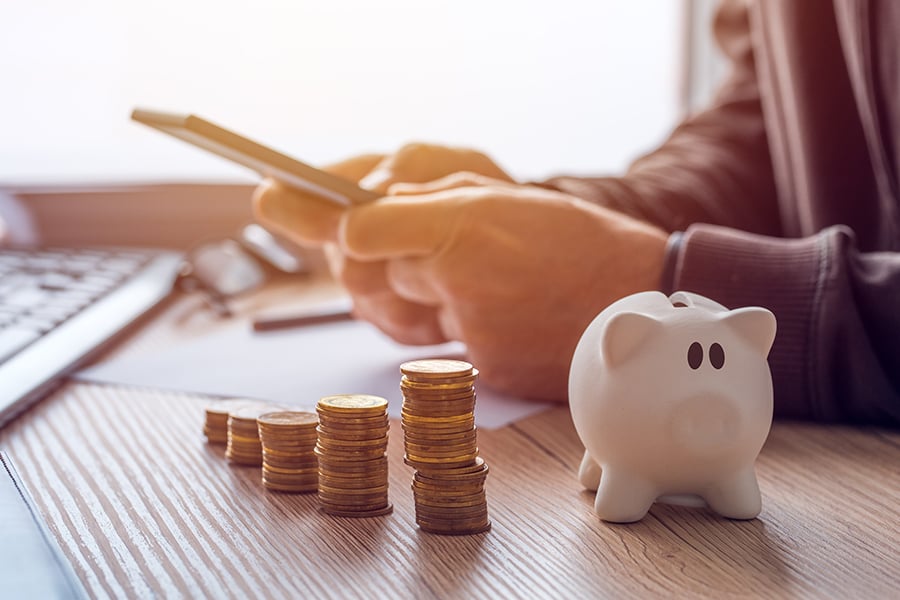 9. Become Part Of Our Arctic Cabins Owners Club
Once you've bought one of our BBQ huts, we're only ever a phone call away should you need any support. We can order in extra parts for your BBQ grill, seat cushions, LED lighting etc. You'll also have the option to join our FREE Arctic Cabins Owners Club, where you'll be part of our community of owners to share inspiration on how to style your cabin, landscape around it, BBQ cooking tips and much much more. So that's just some of the reasons that we believe that an Arctic Cabins BBQ hut will bring you the maximum amount of joy and pleasure.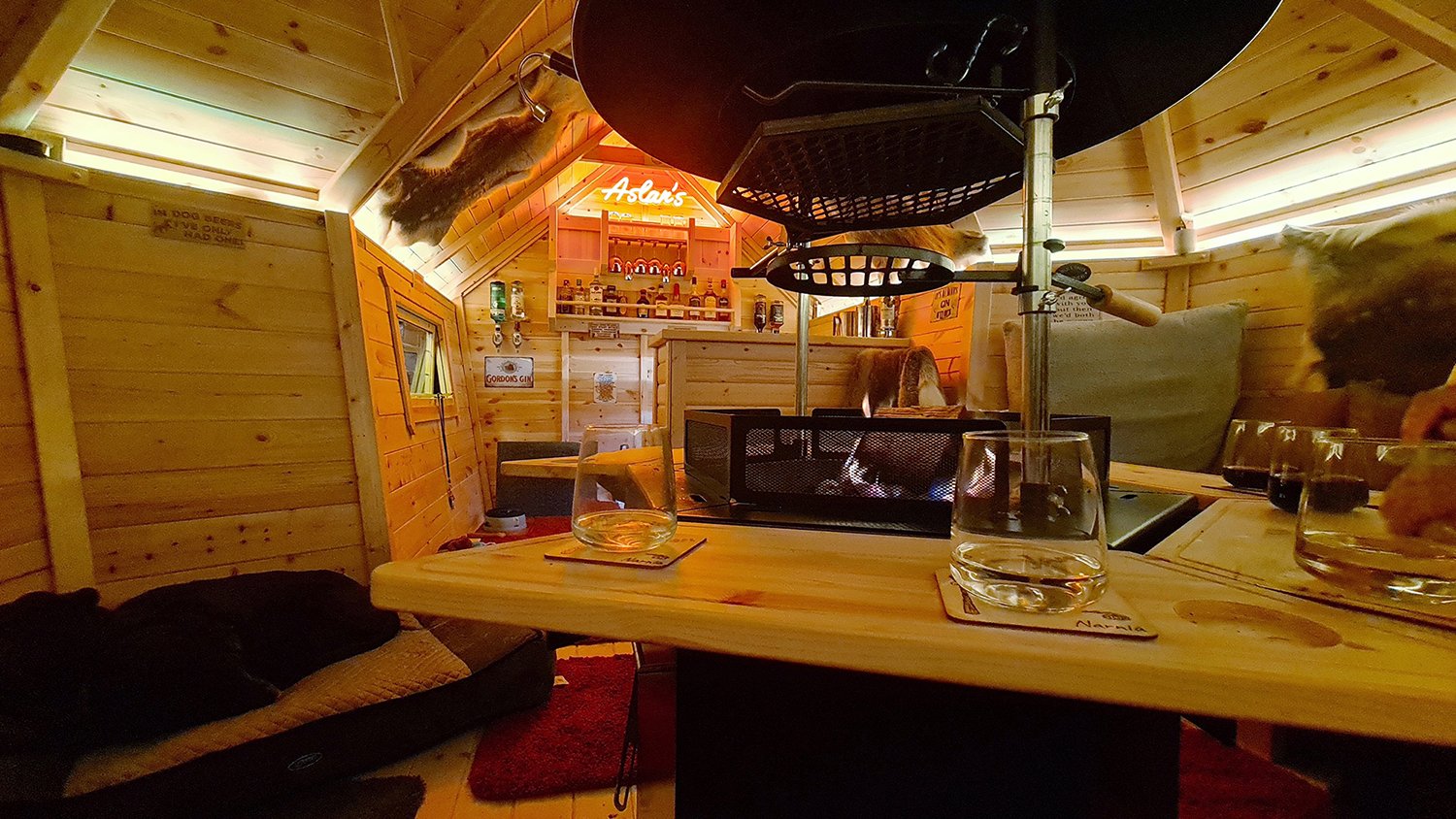 For us, the most important signature isn't the one on your order form, or the finance paperwork, it's the signature that tells us that you're satisfied with your installation and that you're ready to enjoy your BBQ hut. We go to extraordinary lengths to ensure that your cabin will create years of happy memories for you, your family and your friends.
From manufacture to installation, from customer service to finishing touches, we've thought of you.